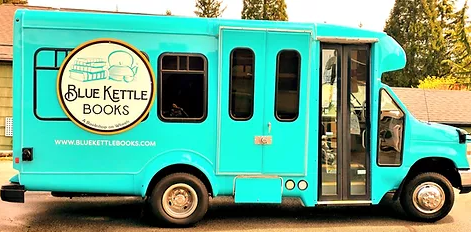 For me, the waning days of summer always trigger a nostalgia for the excitement I felt about starting a new elementary school year. I was one of those kids who enjoyed school and was eager to start the autumnal process of preparing to return to Lake Louise Elementary School: shopping for new school clothes, selecting school supplies, picking the perfect lunch box, and finding out who my teacher and fellow classmates would be.
And being a bookworm, I eagerly anticipated the arrival of the school's bookmobile library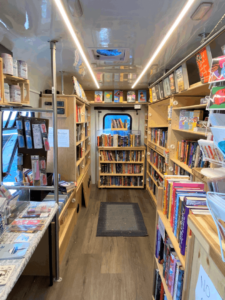 You can imagine my excitement when I heard about Blue Kettle Books, an eye-catching, colorful traveling bookstore that opened its doors this summer. The brainchild of Monica Lemoine, an English professor at Highline College, this cheerful bookstore is a retrofitted shuttle bus that travels around Seattle and neighboring areas offering some 800 carefully curated books for adult and children readers. Lemoine's hopes for this bookstore on wheels is to instill the love of reading in those who either forgot or never experienced the joy of escaping into a great book.
Unlike the school bookmobiles of the past, Blue Kettle Books appears at places you wouldn't expect: local breweries, music and art festivals, street fairs, and food truck events. Being where people congregate encourages people to consider including reading as a pleasurable activity, a time to unwind with and escape into another world.
What better way to discover—or remember—the joy of reading?

So I set out one sunny summer day to check out this novel bookstore. By using social media, like Facebook and Instagram, and the store's website, it was easy track down the location of the teal rolling bookstore on any given day. I decided to visit the bookstore's Maple Leaf home base. Upon entering, I saw how the bookmobile's layout was cleverly designed to accommodate a diverse assortment of books, while providing visitors with a cozy, inviting ambiance. Despite its limited square footage, the interior was bright and surprisingly roomy. There was even a cubby perfect for small children to settle into with a picture book while their parents/grandparents perused the store's offerings. The store also offers a variety of interesting and eco-friendly greeting cards, postcards, games, puzzles, writing supplies, and candles.
In many bookstores, I can sometimes feel overwhelmed by the sheer number of books to choose from. Fortunately, the bookshelves at Blue Kettle Books are organized into intriguing categories, such as "Get into a Mish-Mash," "Get Hooked," and "Get Perspective." In addition, Steve Owens, one of the store's employees, was more than happy to offer reading suggestions.
He reminded me of the bookmobile librarians who helped me find the perfect read

Chatting with Owens was also helpful in another way. I am expanding my editing services into middle grade and young adult literature. And while I have fond childhood memories that harken back to such classics as The Borrowers series, Stuart Little, the Half Magic series, The Mouse and the Motorcycle, and the Little House on the Prairie series, that background in children's literature is not going to cut it when it comes to editing in the current children's book scene. As a middle school teacher, Owens knows what today's middle graders and young adults are reading. Genres popular with young readers now are fantasy, horror, science fiction, historical fiction, adventure, sports, and realistic fiction. Graphic novels continue to be popular across all age ranges. Specific writers Owens directed me to include such award winners as Neil Gaiman, Kelly Barnhill, Katherine Applegate, Reina Telgemeier, Kwame Alexander, Justina Ireland, Sharon M. Draper, Jason Reynolds, and Molly Knox Ostertag.
Exploring Blue Kettle Books is a delightful way to support local businesses and writers, enjoy the tactile sense of handling a book, and mingle with like-minded readers with family and dogs in tow. I can't think of a better way to spend the remaining lazy days of summer.